Welcome to the home page of an accidental author.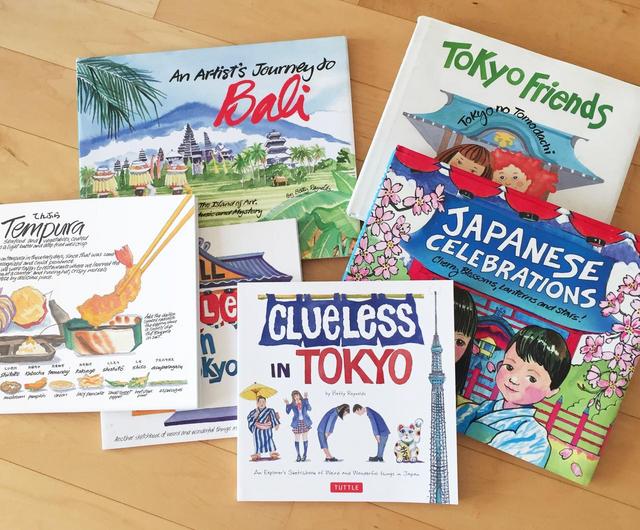 Funny meeting you here. I never thought I'd have a home here with the Authors Guild because I've never seriously considered myself an author. I'm more of an sketchbook artist whose illustrations needed words. In my former life I was an art director and creative consultant for ad agencies in the Philadelphia area. I loved my job, creating campaigns for travel and fashion accounts which often required travel to exotic locales. I had to draw and generate new ideas every working day, so even now, many years later, every time I see a drawing board I feel I have to sit down and create. My life changed in 1988 when my husband's company sent us to live for a year on a tiny dot at the very bottom of Asia. Singapore! Singapore was a revelation for me with its tropical vegetation and its mixture of many different cultures. And for the first time in my life, I didn't have to go to work or school so I had tons of time to soak up all of the new and different things surrounding me. I took Chinese brush painting lessons, Chinese calligraphy, and Asian cooking classes. My husband and I traveled extensively throughout Asia. I became so immersed in Asian culture that I was always shocked to see my pink face, towering above my Asian classmates in group photos. My letters home were big paintings filled with all of the novel things I was learning. The year passed quickly and we returned to the States, but our love affair with Asia never died.

A few years later Frank's company sent us back to Singapore, and then on to Tokyo were we lived for seven glorious years. During my second term in Singapore I was still creating campaigns as a consultant for an ad agency in Pennsylvania. I had an opportunity to work for an agency in Tokyo, but Tokyo's crowded, rush hour trains were terrifying. Besides, Japanese culture was so baffling and intriguing I started sketching on the street, filling sketchbook after sketchbook with all of the mysteries around me. Those drawings became the inspiration for my five books on Japanese culture.

"Clueless in Tokyo", and its sequel, "Still Clueless in Tokyo" contain paintings of all the weird and wonderful things confronting a typical tourist in Japan. They have become cult classics. "Squeamish about Sushi" is a useful and entertaining primer for anyone interested in Japanese cuisine. My first children's book, "Tokyo Friends" was inspired by watching children play in my local park, near the International school. In my second book, "Japanese Celebrations" I wanted to show children the many ways Japanese celebrate the four seasons.

My husband and I now divide our time between Philadelphia and a small island off of the Washington coast. We return to Asia every year, and I'm still filling new sketchbooks with fascinating discoveries.
Please check out my books and illustrations under the Works Menu.